A couple of weeks ago AnnieBlogs wrote about her top 5 favorite books. No categories, no limitations.

It was so hard to choose just 5 that I broke it down by fiction and then nonfiction when I commented.  But even that was difficult.  My mind started envisioning all the book lists I could create.

Why not post these lists, I wondered.  Why not, indeed?  Over the next few weeks, HopefulLeigh is going to be all about the joys of reading.  While I'm looking forward to writing about my favorite books, I'm even more interested in hearing from you! What do you like to read? What books have you *gasp* hated? (Hey, we all come across stinkers at times.) What books do you tell everyone and their mother about?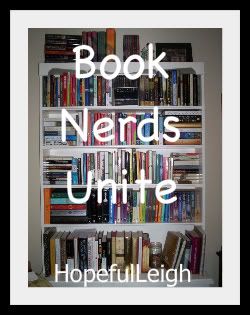 Don't worry, I'll try to slip in a non-book-related post or two in there for those of you who are not as enamored with books as I am.

Tell me truly. Who's the bigger book nerd- me or you?