I scheduled this post for today well before Monday night's announcement that, after 8 years as manager, Ozzie Guillen has been released from the White Sox. I will greatly miss Ozzie and I will forever be one of his Angels.
The story, of course, starts in my dorm room freshman year. This particular spring week I'd decided to create a canopy over my bed, thanks to the tall bedposts. Given that this was college, no one found it strange.
In fact, all week friends gathered under the hovering sheet for heart to hearts or to do homework.
One night as Brooke and I chatted away, the subject turned to baseball.
She was a White Sox fan, born and raised. Her dad had never missed a Home Opener.
I told her I started rooting for the Sox when I was a kid, just to annoy my Cubs-fan cousins and because I love the underdog. I hadn't taken it seriously though.
She seemed to sit up a little straighter, looked me dead in the eye and said, "you should."
I considered it. I liked this idea, this taking baseball seriously. Why not?
I started checking the score in the paper and keeping tabs on my team. I learned player names. I brushed up on my baseball knowledge.
The next spring, friends and I saw Brooke through the death of her father from cancer. The Sox Home Opener was about a month after he died. Brooke invited me and another friend to join their regular Home Opener group that year. We toasted her dad during the 7th inning stretch.
My life hasn't been the same since.
First Sox game with Trisha, Brooke, and Laura on April 14, 2000

I went to every Home Opener with Brooke's family from 1999 until 2010, only missing this year's game due to now living in the South.
From 2005 to 2009, Brooke and I bought partial season tickets, 13 games under the Ozzie Plan. If you're a baseball fan, you will remember that 2005 was the Greatest Year for my boys.  It was a beautiful thing to be a part of that season from the beginning.
We christened ourselves Ozzie's Angels and made 4 different shirts over the years commemorating our fandom. When the World Series memorial was built, we purchased a legacy brick. We decided we wouldn't buy presents for each other for a few years to rationalize the cost.  Our names forever associated with the Chicago White Sox? Priceless.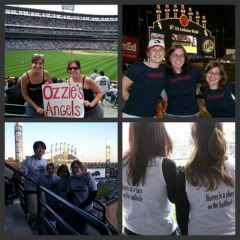 And then there were the cheers. "Oh-ee-oh, Maglio!" "I say Tada, you say Hito. Tada-hito! Tada-hito!" Certain "he's large and in charge" hand motions whenever big, bad Bobby Jenks walked out on the field.
It's funny to think I wasn't always this rabid and obsessed with a baseball team.
I loved sharing so many games with Brooke. Sure, we cheered our hearts out for our boys and lamented when things didn't go so well. (No one can break your heart quite like a baseball team, after all. But let's not talk about October baseball right now.) What I loved most was how the games strengthened our friendship through the years.
After all, we no longer lived in the same town. While a few of us met monthly for burgers at Palmer Place, 13 or more games over 6 months (seven if we were lucky) meant that Brooke and I kept up with the minutia of our daily lives. As Konerko, Dye, and Crede took the field, we worked through boy issues, job woes, friend drama, and so much more.
The years since graduating changed our circle of friends.  We're no longer the same tight-knit group. I'm certain if we landed in the same room, the conversation would continue as if we'd just watched Ally McBeal together the night before.
But Brooke and I retained something from our Augie days through the magic of baseball. Even though she's married and mothering now and my move effectively ended our partial season tickets, we still meet at Palmer Place when I'm in town. And we still commiserate about the White Sox by email or Facebook.
Some things don't change.
So, Brooke, thank you for telling me to take baseball seriously. I wouldn't trade the joy and heartbreak for anything. And I especially wouldn't trade the time we spent together.
As always, let's go go go White Sox!
Are you a baseball fan? Did a friend ever inspire you to begin a hobby?