When Leanne Shirtliffe of Ironic Mom fame wrote that Thing 1 and Thing 2 were ready for some traveling adventure, I volunteered to take them around Nashville.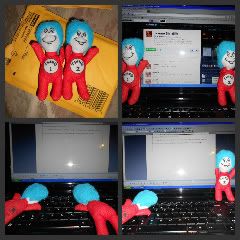 The Things arrived via Minnesota on Thursday December 15. They were quite relieved to be released from the mailing envelope. I showed them Leanne's Twitter profile so they wouldn't feel homesick. It was a touching reunion. I explained to them that my goal was to finish writing my novel by the end of the week. Given their literary roots, they wanted to help me write a few lines. However, they wanted to take my novel in a different direction than I'd envisioned. We decided they would play while I continued writing.

The next day, Friday the 16th at 4:32, I typed the last sentence and finished. Oh, the rejoicing that occurred! Truly, it warmed my heart to see how happy they were for me. They were even more excited when I told them about all the fun plans I had in store for them that weekend. It was time to explore NashVegas!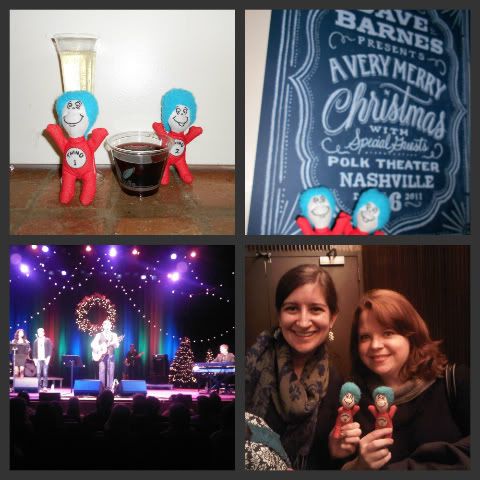 We kicked Friday night off by going to the Tennessee Performing Arts Center for the Dave Barnes Christmas show. What a way to celebrate, right? The Things joined my friends in toasting my accomplishment. (I hope The Things are of age, Leanne.) The show was thoroughly entertaining but the real surprise awaited us. It turns out that not only was Jamie of Jamie's Rabbits in Nashville for the weekend, she was also in the audience. We met up after the show and chatted for a few minutes. There's nothing like meeting a Twitter friend!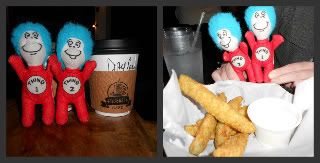 Saturday included a stop at my favorite coffee shop Edgehill Cafe for a little drink called The Dirty Snowman #iykwim. That night we headed to 3rd and Lindsley for Drew Holcomb & the Neighbor's Neighborly Christmas show. And then, Thing 1 and Thing 2 were introduced to a rite of passage for all my visitors: the food wonder known as fried pickles. They loved them! Good food and a phenomenal show- Nashville at its finest. I seriously can't sing DHATN's praises enough- so I won't. It's best to leave that sort of thing to the professionals anyway. I will say that their Christmas show is going to be an annual tradition for me. You should probably make it your new tradition, too.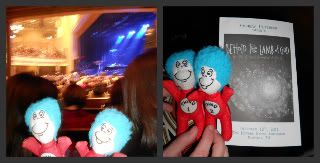 Sunday we went to church and then I finished packing to head home for Christmas. Yes, a visit to me also included a stop in the Chicago suburbs. Otherwise they would have spent Christmas in the mail and that's not very festive.  Thing 1 and Thing 2 pretty much felt like they hit the jackpot. But first, we had one last Christmas show. We headed to the famous Ryman Auditorium for Andrew Peterson's Behold the Lamb of God. Yet another show I'll be adding to my list of new Christmas traditions.
Monday and Tuesday, Thing 1 and Thing 2 helped me care for baby C. It's no surprise that the Things are quite gifted when it comes to children. (For those of you who don't know, I quit my job as a medical social worker in June so I could focus on writing. I nanny for a fabulous family to pay the bills in the meantime. I have absolutely no regrets. Take risks! Follow your dreams! OK, I'm done now.)
Finally, Wednesday morning we boarded a Southwest plane aimed for Chicago. I do enjoy flying Southwest, what with their sassy flight attendants and no fees for checked baggage.
Thing 1 and Thing 2 explored my parent's house from top to bottom and decreed it would meet their Christmas needs. Not that they had much choice in the matter. They could participate in the festivities or be relegated to the bottom of my purse.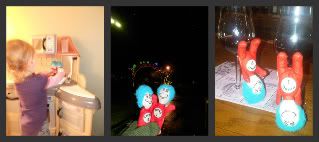 Thing 1 and Thing 2 accompanied me on a day o' fun with my best friend Erin and her family, which included copious amounts of playing with my niece-in-love, a tour of the Christmas lights at Cosley Animal Farm, and a stop at Tasting de Vine for a glass of Christmas Red.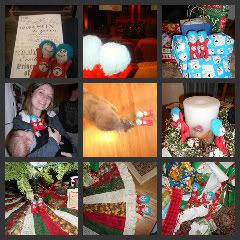 Christmas morning we went to church, where they were quite impressed by the choir's Hallelujah Chorus. Between Christmas Eve and day, we spent time with my extended family. Thing 1 and Thing 2 found both White Elephant exchanges to be quite humorous. Finally, Christmas night, my family gathered together for our own celebration. The Things got a little carried away with the wrapping paper but it was all in good fun.

Over the course of the week, Thing 1 and Thing 2 met many of my friends, went to my favorite restaurants, convinced my dad to read them a bedtime story, and accompanied me a billion times to Caribou Coffee so I could get my Black Thai Tea Latte fix.  Last Thursday we flew back to Nashville, where I have readied them for their next host.
I hope the Things enjoyed their Christmas adventures in the South and the Midwest. They certainly were a big hit! I'm not saying that no one will be able to outdo me...I'm just throwing down the gauntlet.
Where would you take Thing 1 and Thing 2 if they visited you?